N

Wardrobe choices Head to Toe

N

Make up

N

Designer Bearded Santas and Real Bearded Santas

N

Marketing Yourself

N

Pricing your Gigs

N

What Type of Santa Are you?
N

Santa visits

N

Organizing your Santa Engagements

N

Preparation for your Event

N

Rehearsal

N

Become Santa: Character Development

N

Questions for Santa

N

Putting it all together
N

Making an Entrance

N

The Controlling Santa

N

Problem areas at events

N

Post Event: what to do?

N

Putting your skills to Work

N

Role play and workshops

N

Advance Class Topics
Santa Doug Eberhart has been portraying Santa Claus for 42 years. He started his acting career in Massillon, Ohio at Washington High School and began as Santa when he was 14 years old. His mother Sandy made his first Santa suit out of an XL men's pajama pattern. Doug began by doing "Santa gigs" for friends and neighbors and worked his way into doing home visits. Being a large football player, (offensive center) Doug continued his passion for playing Old Saint Nick through his college years at Princeton University where he graduated in 1985.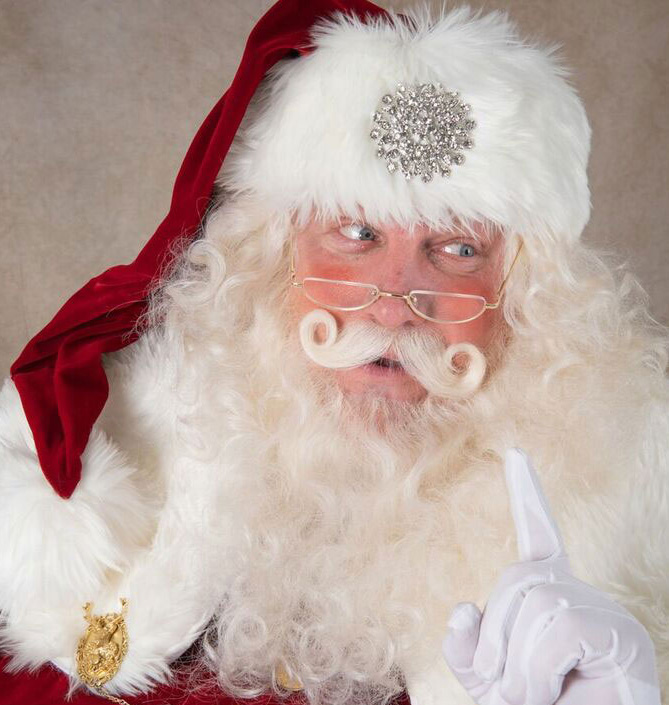 Upon graduation, Santa Doug moved to Charlotte, NC and continued his portrayal up until this day. He has entertained over 20,000 children and adults. He is a member of IBRBS, Santa USA and prefers to use a designer beard due to his work in the medical field. Being a Designer Bearded Santa has not slowed down Santa Doug's business. He has been Santa Claus for TV commercials, The Carolina Panthers, Department stores, Grocery Chains, numerous corporate parties and hundreds of home visits.
Santa Doug has gone to numerous Santa schools and classes including the C.W. Howard school. He fills his schedule with about 75 gigs per season. Santa Doug is known for wearing numerous Santa outfits that are beyond the traditional. Many of his outfits are based on vintage postcards and drawings. You can see some of his collection at rentasanta.com under the photo section, his personal website.
In May of 2018, Santa Doug started Prosantashop.com which specializes in products for the PROFESSIONAL Santa. Products include custom made Santa Suits, shirts, vests, waistcoats, belts, buckles, bells, santa bling etc. You can reach him at doug@prosantashop.com
In June of 2019 he founded with Santa Stephen P Price, Charlotte Area Christmas performers, a group of local Santas, Mrs. Clauses and Christmas performers.
ProSanta School – The Pratical Santa
March 23-24, 2024
Holiday Inn Express, 9420 E. Independence Blvd, Matthews, NC
Cancellation/Refund Policy: Once a school slot has been paid for a person can receive 100% of the money paid prior to 30 days in advance of the school start date. Anything less than 30 days and the person(s) will be moved to the next school offering date. In the event that a person does not want to come to the new school offering, NO REFUND shall be given.